December is here and we have a lot going on!
First and foremost!
For Decembers Burger of the Month, we present to you…
ARMORED SAINT
10oz Kuma's Patty, Chipotle Mayo, Pepper Jack Cheese,  Caramelized Onions, roasted red bell peppers, Roasted Poblano peppers, & a Farm Fresh Egg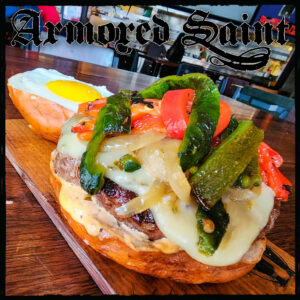 Named after the Metal Blade Heavy Metal Band. Armored Saint was formed in 1982 and is based out of L.A. They were featured on Metal Blades' Metal Massacre 2 and are legends in the heavy metal world! We are honored to dedicate this burger to such a longstanding juggernaut of a band.

December's Mac of the Month is named after the band's album March of the Saint.
Mac of the Saint
Kuma's Mac Mix, Jalapenos, Roasted Poblano Peppers, Roasted Red Bell Peppers, A Farm Fresh Egg, & Chipotle Mayo.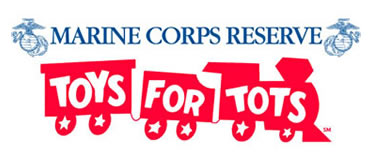 All of December we will be collecting toy donations for Toys for Tots. $1 of every BOTM and MOTM sold in the month of December will be donated directly to their cause. Anyone that brings in a new toy to donate will receive 15% off their individual bill.
The release of the Kuma's Corner X Jeppson's private Label Bourbon.
Kuma's Private Label Barrel Aged Jeppson's Bourbon is now available at all Chicagoland locations! We're offering many different ways for you to enjoy this hand-selected cask-strength bourbon. Each location will be offering the bourbon in typical traditional bar drinks. You can order it as a shot, neat, on the rocks, or in any cocktail you choose. Each location has also created a unique cocktail exclusive to that specific location that features the flavor profile of the bourbon.
You can also grab a bottle to take home or gift to someone for the holidays!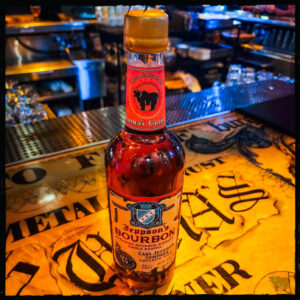 Belmont will feature The Stuffed Bear – Kuma's Private Label Jeppson's Bourbon, Coffee Liqueur, Simple Syrup, Lemon, & Walnut Bitters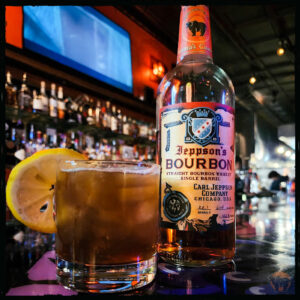 West Loop will feature Deadly Sin – Kuma's Private Label Jeppson's Bourbon, Sweet Vermouth, Maraschino Liquor, & Orange Bitters.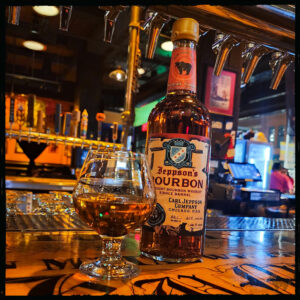 Schaumburg will feature H8 Red – Kuma's Private Label Jeppson's Bourbon, Simple Syrup, Lemon, Grenadine, Absinthe Spray, & Bitters.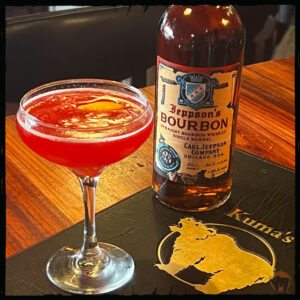 Stay tuned for more announcements!