Presenting the very first BOTM of 2023!
BLACK CROSS HOTEL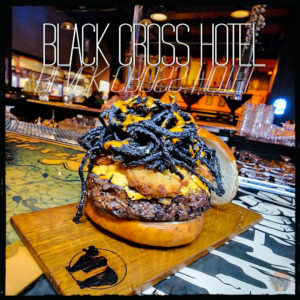 10oz Kuma's Patty (or choice of protein), Bacon Jam, Buffalo Cream Cheese, Fried Pickles, Ultra-Blackened Onion Frizz, & Buffalo Sauce Drizzle
We definitely didn't forget about the Mac of the Month!
HEX MAC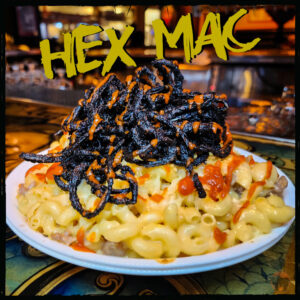 Kuma's Mac Mix, Burger Crumbles, Blackened Frizzled Onions, Buffalo mix, & Sriracha Drizzle
Created for the band BLACK CROSS HOTEL.

Black Cross Hotel is a Chicago-based horror post-punk supergroup. Made up of Andrew Ragin of the Atlas Moth, guitarist Marcus Eliopulos of Stabbing Westward, Atlas Moth & Broken Hope drummer Mike Miczek, Whipped vocalist Dee DeEmme, and bassist and producer Sanford Parker of Minsk, Buried at Sea and engineered multiple well-known metal albums.
Black Cross will be performing at Forever Deaf Fest on Jan. 20th.
NON-PROFIT OF THE MONTH
One Warm Coat's mission is to provide free coats to children and adults in need while promoting volunteerism and environmental sustainability.
$1 buys someone a new coat. For every BOTM or MOTM sold in January, one coat will be provided to someone who needs one.