APRIL BURGER OF THE MONTH

EYEHATEGOD
10oz Beef Patty (or choice of protein), Pecan-Hazelnut Crumble, Bacon Wrapped Dates, Bleu Cheese, Düsseldorf Mustard, Scallions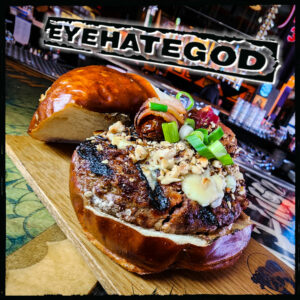 Band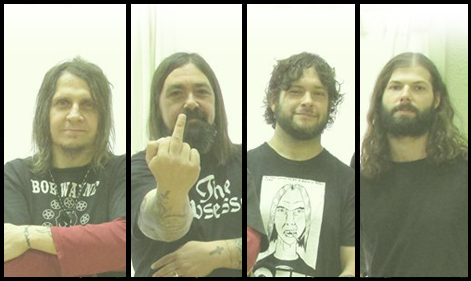 Eyehategod is an American sludge metal band from New Orleans, Louisiana who formed in 1988. Their core lineup has remained consistent since the band's inception, with the exception of the bassist (the role of which has been filled by several musicians over the years), until the death of drummer Joey LaCaze in 2013. As of 2021, the band has released seven studio albums. 
Nonprofit of the month
Taskforce Prevention Community Services – https://www.taskforcechicago.org/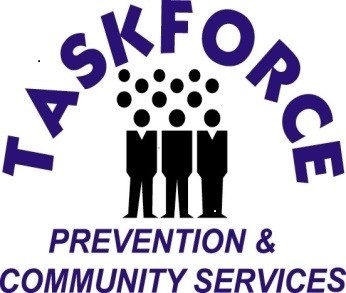 Founded in 1990, TaskForce Prevention & Community Services (TaskForce) is located on the west side of Chicago, in the heart of the Austin community. The agency's board of directors, staff, and community stakeholders work together to approach preventive healthcare holistically.TaskForce Prevention & Community Services is a grassroots organization committed to improving the sexual health and well-being of LGBTQ+ youth of color in Chicago by providing a safe space for fellowship, HIV/STI screening and education, and on-site referrals to medical, housing, and other social services.  We are dedicated to making a difference by working towards solutions in partnership with our community in order to improve our overall quality of life.
Upcoming Promotions

The Skull Burger returns to Kuma's Corner West Loop!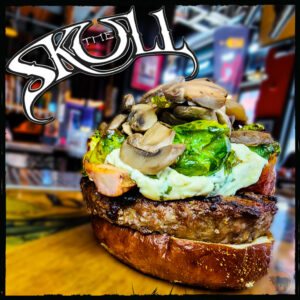 10oz Beef Patty (or choice of protein), Maple Bourbon Pork Belly, Roasted Brussel Sprouts, Goat Cheese, Sautéed Mushrooms, & Fresh Garlic.

Available from 4.17 – 4.23 Exclusively at Kuma's Corner West Loop

EYEHATEGOD, THE SKULL, & YAKUZA at THE EMPTY BOTTLE
GET TICKETS NOW!

WIN TICKETS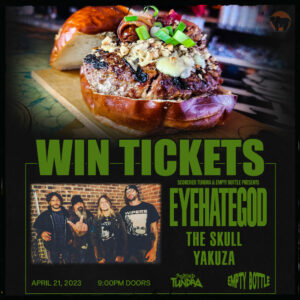 Eat the EYEHATEGOD burger at any location between 4.14-4.16 at any location and be entered into a drawing to win 2 tickets.
The XXX Burger returns!!
In Celebration of the return of EXXXOTICA, we're bringing the XXX burger back!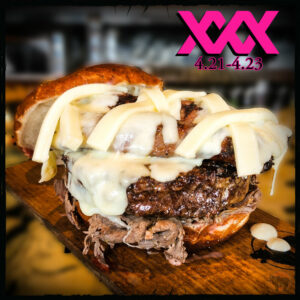 10oz Kuma's Patty, Italian Beef, Italian Sausage, Mozzarella Cheese, & Giardiniera Aioli. Served with a side of Giardiniera.
Available at OG Kuma's and Kuma's Schaumburg from 4.21 – 4.23
$1 of every XXX burger will be donated to our friend Jessie Lee to help her with her recovery.
EXXXOTICA AFTER PARTY WITH JOANNA ANGEL AND AARON "SMALL HANDS" THOMPSON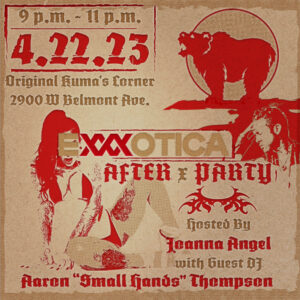 Come hang out with Joanna Angel & Small Hands at OG Kuma's on 4.22.
Small Hands will be the guest DJ and the event will be hosted by Joanna Angel.
We'll be raising money for Jessie Lee to help with her recovery.
Featured Menu Item
REZN – Fried Chicken Tender, Bacon, spicy marinara, deep fried mac & cheese medallion, parmesan cheese, Basil