EVERYONE I LOVE IS FED – $19
Available: 8/1 – 8/31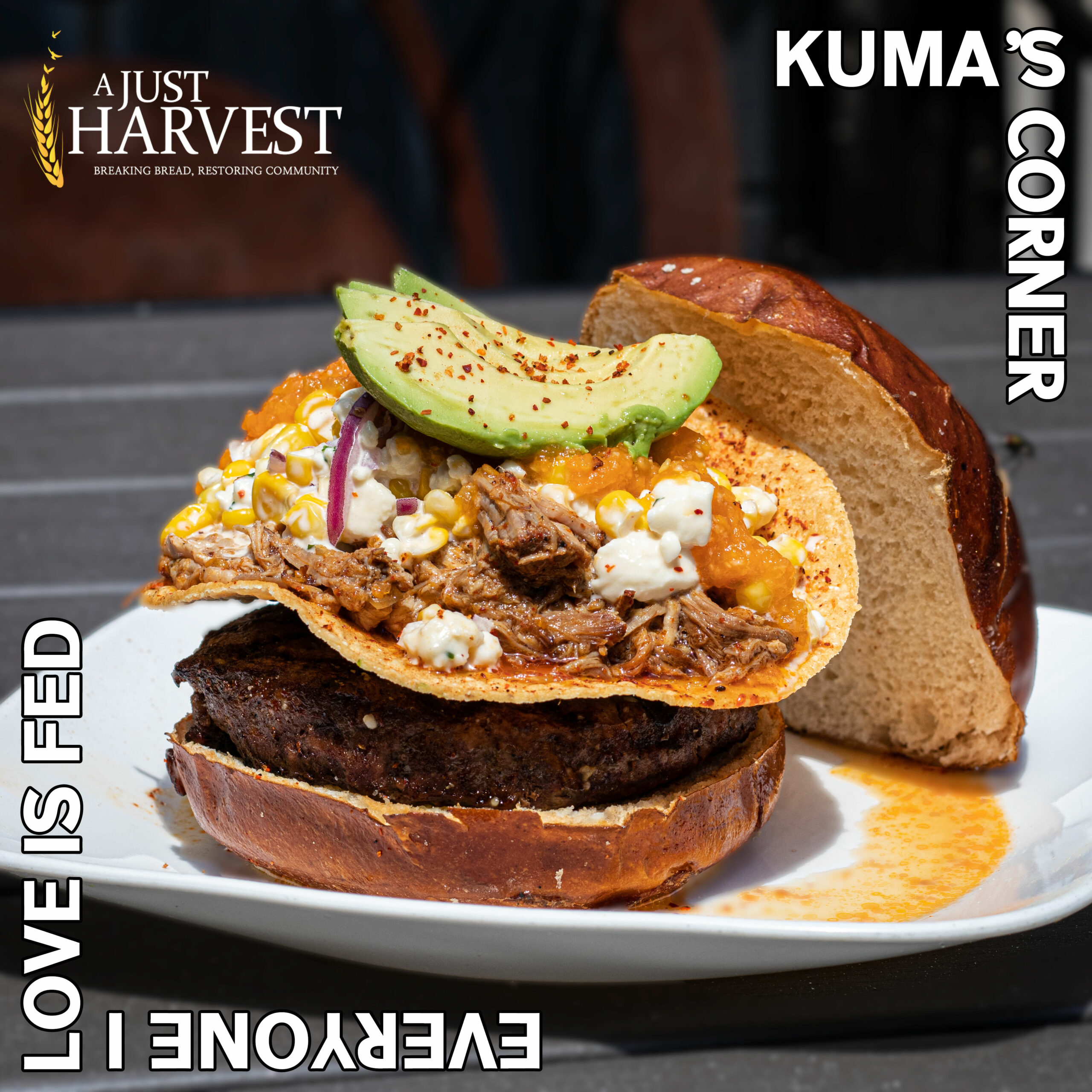 Pretzel Bun 10 oz Beef Patty (Black Bean Patty, Impossible Burger, Chicken) Tajin Tortilla Crisp, Diablo Pork, Corn Elote, Diablo Hot Sauce, Tajin Avocado Fan $19
The 'Everyone I Love is Fed' burger is the latest beef monster to be summoned from the depths of Kuma's fiery grill!  Conjured up from the masochistic mind of our head chef, Tim Arscott, this burger is born from the bellows of hell and served directly to you on a pretzel roll. The avocado, Tajin, and Elote come together in a way that lets this burger melt onto your taste buds. The texture combination of the deep-fried tortilla shell, burger patty, and slow-roasted Diablo pork will knock you back into your chair as you savor every bite. The sweetness of the Diablo sauce is devilishly deceitful, as this burger has a kick that will remind you why Hell has our playlist cranked to 11!
Named after the song "Everyone I Love Is Dead" by the legendary American Gothic metal band Type O Negative with a small play on words to honor the mission of our August charity partner, A Just Harvest. Like the song, we're all frustrated with seeing people suffer and perish for no reason. A Just Harvest is a Chicago based non-profit that has a focus on feeding the hungry and community building to help bolster the underserved and make sure no one goes hungry!
EATEN BACK TO LIFE – $18
Available: 8/1 – 8/31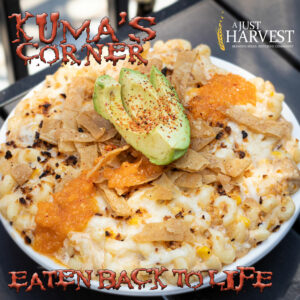 House Cheese Blend, Elbow Macaroni, Diablo Pork, Elote, Diablo Hot Sauce, Tajin Avocado, Tajin Tortillas 
Ready to check off at least 2 of the deadly sins? This month's mac and cheese concoction was created for the glutinous sadist that resides in all of us. Named after Cannibal Corpse's genre-defining debut studio album 'Eaten Back To Life' and staying true to the crushing intensity of the record, this mac combination will not only brutalize your taste buds in the best way possible, but it will also wake you up in a way that only a zombie could relate to. Get ready for a brand new mac that will leave you lusting for more!

$1 of every BOTM & MOTM will go directly to supporting our Aug. non-profit partners A JUST HARVEST!
A Chicago based non-profit with a mission to feeding the hungry, address the root causes of hunger & poverty, and cultivating opportunities in our community.